July - Newsletter 26 (26th July 2017)
Dear Parents/Carers,
Thank you for all of your support over a successful and enjoyable year
– have a lovely summer everyone.
Summer Events – we've enjoyed celebrating our 50th Anniversary this term and there have been many more highlights. Click on the link on our website homepage to see photos from some of these. There are a few examples below: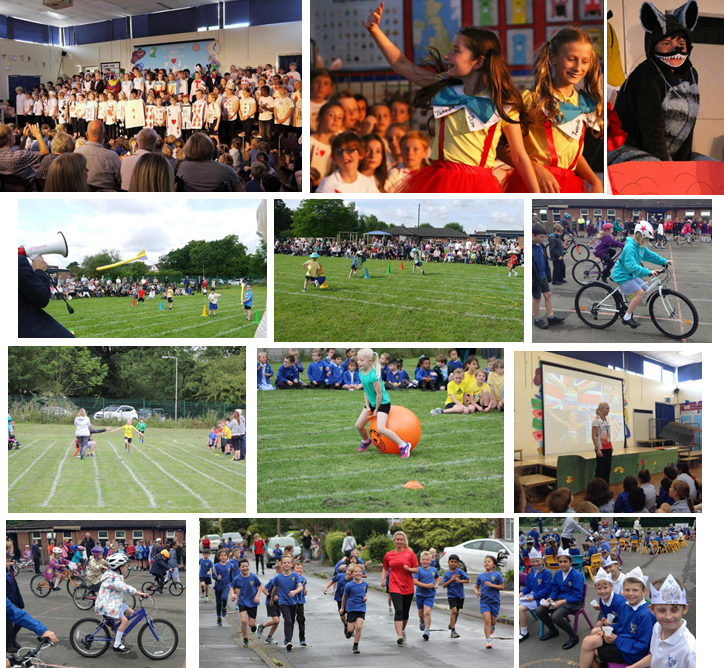 Seesaw – we've had a great response to our introduction of Seesaw and many positive comments about newsletters being sent home via Seesaw (instead of as a paper copy) for environmental reasons as well as the fact that paper copies often don't get home, can get lost etc. Whilst we understand it isn't ideal for everyone the vast majority of parents who expressed a preference wanted this and so the plan is to start this in September. Newsletters will still be put on the school website so you will be able to use this as a reference point too. Thank you for your support.
Musical Instruments – Thank you for returning the applications for music tuition starting in September (Year 4 onwards). All who applied will be able to have lessons and information about payment etc. will come home in September. Our guitar and woodwind players did a great job in the concerts this week and last week – well done all.
ParentPay – please check to see if you have any outstanding payments due on ParentPay before the holidays – thank you.
Thank you again to our wonderful PTA led so well by Bev Sangster again this year – I really do think we are in contention for having the world's best PTA! The first PTA Meeting next academic year will be on Wednesday 13th September at 7:30pm – everyone is welcome and I know the PTA would make anyone who hasn't been to a meeting before feel very welcome indeed so please do come along.
Thank you as well to Ms Claire Webster (Sam's mum in Year 6) who has done a fabulous job as our librarian over the last few years. She has worked with the children to introduce lots of new ideas and brought a great deal of enthusiasm and expertise to this voluntary role. We now need a new librarian – please get in touch if you are interested!
Leavers' Assembly – our Year 6 children put on a great Leaver's Assembly for the school and their parents/carers and relatives today. We'll be sad to see them go but know that they are well prepared for high school and have great things to come – good luck all!
We also have to say goodbye to Mrs Gilbert and Mrs Valentine who are leaving tomorrow – Mrs Valentine is retiring and Mrs Gilbert has a new job. Thank you again for being such fantastic and caring teaching assistants.
Toy Day - Children can bring a toy tomorrow – they are responsible for their own toy/game. Electronic devices must only have age appropriate games on them. Mobile phones don't count as toys!
End of Term – we break up after school tomorrow (Thursday 27th July) at 3:15pm and the children are due back in school on Tuesday 5th September 2017.
Finally, I need to say good bye. A huge thank you for the lovely leaving picnic, cards, gifts and kind words on Friday and thank you for all of your support over the years. Lane End is a wonderful school and community with incredible staff, children and parents/carers - I'm really going to miss it. I've promised the children I will keep in touch and help link Lane End to my school in Malaysia (Kolej Tuanku Ja'afar or KTJ for short) via Skype/video link - I'm looking forward to hearing all of the news. I am delighted that Mrs Love will be Headteacher – she has been a fantastic deputy head and I know the school is in very safe hands. I wish everyone all the best for the future.
We aim to be approachable and work in partnership with parents, so if there is anything you wish to discuss, please do not hesitate to come and talk to us.
Yours sincerely,
James Twigg