March - Newsletter 16 (3rd March 2017)
Dear Parents/Carers,
Welcome back to the second half of the spring term – we're looking forward to seeing some signs of spring weather soon!
We've had a lovely first week back and World Book Day was a particular highlight. The children looked fantastic in their costumes and we enjoyed talking about the characters and their favourite books. All the children have received a £1 World Book Day Book token which you can exchange at your local book shop for a special World Book Day Book or £1 off any book.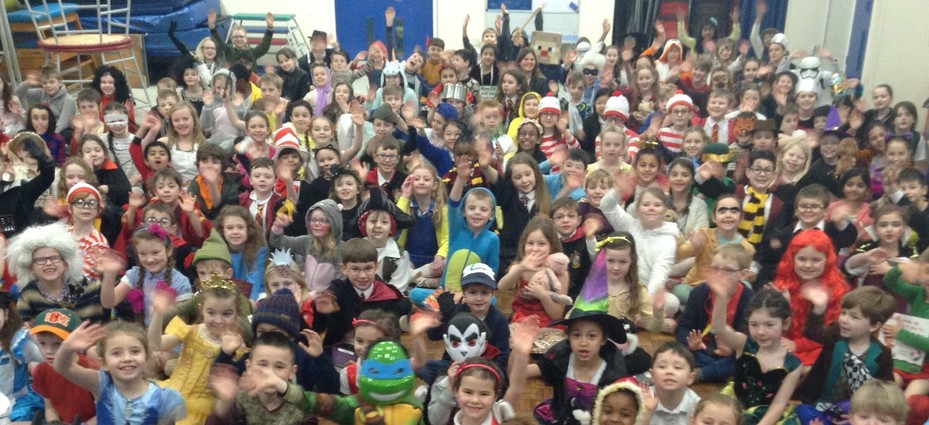 (More photos of World Book Day available on our Twitter account)
50th Anniversary Reminders: We are having a special dressing up day on Monday 27th March – children should come dressed up to look like they come from the 1960s - that could be the fashions of the time, a notable person from the 1960s or a character from 1960s culture (e.g. books, films, TV). Use your imagination and have a look on the internet and in books for ideas with your child – there will be a prize for the best costume in each class!
If you were a pupil or member of staff at the school and have any artefacts or photographs you could contribute (an old school jumper, class photo, programme from a school event etc.) then please contact the school by email - admin@laneend.stockport.sch.uk or phone 0161 485 8071. All items would need to be named so they can be returned and the date they relate to given so that they can be placed in the right place on the time line!
Additionally, if you are a past pupil or member of staff and would be able to come in to school to talk to the children about Lane End when you were there then you are also invited to a special assembly on Tuesday 28th March and to spend time talking to the children in class that morning. Please contact school by Monday 13th March so that this event can be timetabled. We'd love to have you here so please do get in touch.
Lane End 50th Anniversary Fund – if you work for a business which would be interested in sponsoring our time capsule then please get in touch with school. The money raised will go towards supporting the children's education and your company would have their name displayed on a plaque visible to the whole school community. Please contact us on 0161 4858071 or admin@laneend.stockport.sch.uk for more details. Thank you.
Parents Evening – please sign up for a slot if you haven't already done so – the sign-up sheets are in the school entrance or you can phone school to make an appointment. We'd like to see all parents/carers please.
Parent Governor Election – please look out for the nomination forms for a new Parent Governor which will come home next Monday. Please do apply if you are interested and you are welcome to come and talk to me about the role if you have any questions.
PTA - Just before the half term break we had a non-uniform day to raise money for the PTA and specifically to upgrade Seesaw. Thank you very much for your generous response – we have raised almost £500; a fantastic amount!
The PTA Ladies Fashion Night next Friday will now be held at Fuzzy Goose, 20a Church Road, Cheadle Hulme - above the wine shop opposite the church. Please contact Bev Sangster, our PTA chair, if you have any questions about this - bev.sangster@ntlworld.com
We seem to be doing quite a lot of dressing up at the moment and it is also Comic Relief on Friday 24th March! So you don't need to organise another costume we will have a PJ day – children can come to school in their pyjamas for a donation to Comic Relief (suggested donation £1 – please bring in cash so we can put it in a collection pot). Please make sure your children are warm enough for a day at school! Children can, of course, also wear red nose gear if they have it!
It is also the PTA Comic Relief Disco on this day (Friday 24th March) - Infants 6-7pm, Juniors 7:15-8:15pm. It costs £3 per ticket and is for Lane End children only. Infant parents are welcome to stay or leave the children as they see best. Tickets are now available to buy via ParentPay.
Comic Relief Cake Sale – Noah R (Y5) and Timothy R (Y2) have put together an excellent plan for a Comic Relief Cake Sale (you can see it on our Twitter account). If you are able to make some cakes with your children to bring in and sell on 24th March that would be much appreciated. The sale will be during the day with any remaining cakes on sale straight after school.
National Funding Formula (NFF) - Thank you to everyone who has written to Mary Robinson MP and/or taken part in the consultation on the National Funding Formula (NFF). The relevant information is still on our website in the 'News' section and there is still time to respond. Your support in this important matter is much appreciated.
Further to the Governing Body writing to Mary Robinson we are also planning to give her a petition showing support for increased funding for Lane End and schools in a similar position. Some of our parent governors will be in the playground on Monday (before and after school), Tuesday (before school) and Wednesday (before school) next week – please do support the school and your child's education by signing the petition. Thank you.
Staff News
As you know Miss Rainey will be taking her maternity leave from the Easter Holidays. I am delighted to be able to let you know that we have appointed an excellent teacher, Miss Chloe Joseph, to cover Miss Rainey's maternity leave. Miss Joseph has taught at Lane End before - covering both Mrs Chamberlain's maternity leave, which was also in Year 2, and Mrs Love's maternity leave in Year 5. She is currently teaching a Year 1 class at another school. She did a great job covering our maternity leaves before and I am confident that she will do the same again.
We aim to be approachable and work in partnership with parents, so if there is anything you wish to discuss, please do not hesitate to come and talk to us.
Yours sincerely,
James Twigg