Pupil Forum
2018 - 2019
This year our Pupil Forum reps are working on:
The development of the areas in our playground and designing new playground markings
Previous Years
We have finally received our banner which the children from last year's Pupil Forum worked on with Mr Toyne and the Stockport Road Safety Team – it looks great and gives an important message! It is displayed on the fence to remind everyone not to park on the zig-zag yellow lines outside as it makes it unsafe to cross the road. The banner was designed by the children and says: "It's plain and clear – you can't park here!" The children really hope that everyone pays attention to their banner.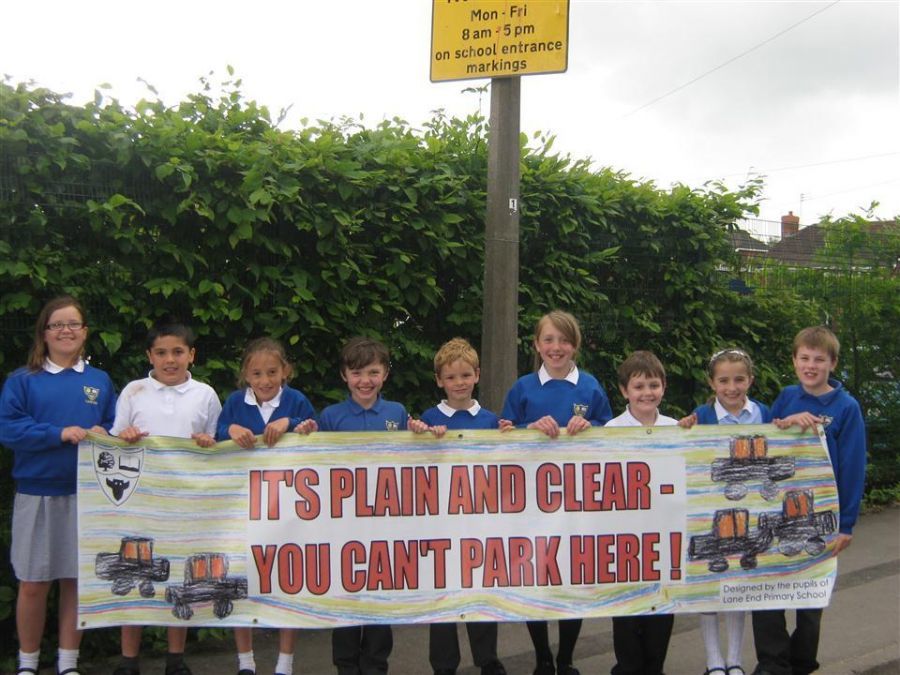 The Pupil Forum, including Toby and Eleana (the new representatives from Reception Class) were introduced to the school in this morning's assembly. During the assembly the children discussed why we need a Pupil Forum and had the chnce to tell the reps what they expected of them!
After assembly the Pupil Forum met with Mr Toyne. He welcomed Toby and Eleana from Class R and then the children played some games to get to know each other a bit better.
Mr Toyne then explained the next task. The Pupil Questionnaire that all children completed last Summer showed how happy we are with our school. All of our answers were higher than most other schools in England.
In the questionnaire, 13% of pupils disagreed with the statement 'We get the chance to learn from one another.' Mr Toyne asked the reps to gather more information from their classes. For example;
in what ways would they like to work together - pairs, groups, with other classes/schools?

what kinds of work would they like to do together?
The reps will be bringing their class ideas to the next meeting later this half-term, and the teachers will then have a better idea of how the pupils belive they can learn from each other!
Pure Fm
DJs Tim and Sarah from Pure FM visited school to ask the Pupil Forum 'How Kool's Your Skool?'. The children recorded messages, jingles and competitions to be broadcast each morning later in the month. It was a great experience
Ramillies Avenue, Cheadle Hulme, Cheshire, SK8 7AL
0161 485 8071
admin@laneend.stockport.sch.uk